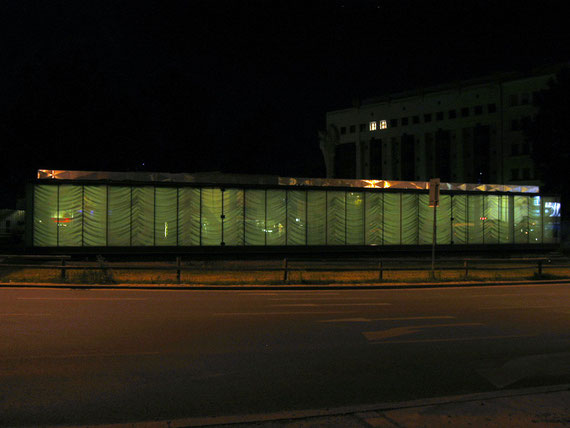 THE LIGHT BOX
enstanden im Rahmen von Licht I Bild I Illusion - The AeginaAcademy
Gustav Deutsch, Hanna Schimek
Kunsthalle - projectspace, 8.6.2005 - 3.7.2005
Während der Nacht werden ausgewählte Bilder aus dem Light Image Fotoarchiv zum Thema Licht, aus der Kategorie Panoramen auf die Fassade des Kunsthalle - projectspace projiziert. Die gläserne Box wird so zum Leuchtkasten und dem Thema entsprechend zur illusionistischen Architektur.
THE LIGHT BOX
created as a part of Licht I Bild I Illusion - The AeginaAcademy
Gustav Deutsch, Hanna Schimek
Kunsthalle - projectspace, 8.6.2005 - 3.7.2005
Selected images of the Light Image photo collection on the topic of light, from the panorama category are projected onto the fassade of the Kunsthalle - projectspace. This was the glassbox turns into a light box and illusionist architecture according to the project´s topic.